Can Seam Inspection Equipment by

Longueville, Pound Lane, Smeeth, Ashford, Kent. TN25 6RJ. England
Tel: +44 (0)1303 813200 Mobile 07776 251493 E-mail:stevegoble@arundle-optical-instruments.com
Compact Beverage Can Seam Sectioning Saw.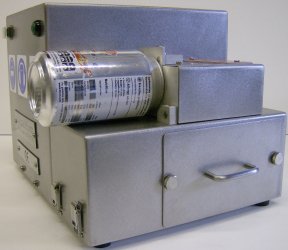 The Compact beverage can sectioning saw has been designed to maximise work top bench space.
The beverage can saw has a unique cutting design to achieve
Longer Blade Life Resulting In Precise Cutting Repetition
Reduce Cutting Movement/Time
Cost Effective Blades (H.S.S. M2 100 x 22 x 0.5 x 300 Teeth)
Quick Change Seam Fixture
Blade support to eliminate lateral movement of blades
The linear bearing cutting table has a seam fixture, this has an internal chuck angle to locate the food can firmly and ensures that the cans are consistently cut through the centre line of the can.
Ramped motor acceleration for immediate maximum cutting torque.
Saftey First
Both hands have to be employed while cutting
Removable Power Cord (230 Volts)
Illuminated Mains Off/On Switch
Spring Return Blade Guard
Extra Low Voltage Control Circuits
Push Button (Auto Off Return)
Can Proximity Sensor (No Can No Start)
Swarf Container Sensor (No Container No Start)
Supplied with
1 Off Seam Fixture
2 Off Spare Saw Blades
1 Off pair of Tin snips
2 Off Blade Change 24AF Spanners
T-Bar M5 Allen Socket Wrench
Features.
Easy clean stainless steel cabinet
Dimension: Length 300mm Width 230mm Height 210mm
Weight 11Kg (24.2lbs)
Free running at 800mm 65dB Cutting at 800mm 100bB (1to2 Seconds)